Visit Joshua Tree
Joshua Tree, California, is a rustic desert town that captivates with its rugged beauty, laid-back atmosphere, and thriving arts scene. The area is named after the twisted, bristled Joshua Trees native to the Mojave Desert. A key highlight of the region is the Joshua Tree National Park, a vast wilderness of desert landscapes and geological features that has become an iconic destination for hikers, climbers, and nature lovers.

Where is Joshua Tree, CA?
Joshua Tree is located in San Bernardino County in Southern California. The town sits roughly halfway between Los Angeles and Phoenix. The entrance to the much-loved Joshua Tree National Park is just a short drive south of the town.

Why People Love Visiting Joshua Tree, CA
People are drawn to Joshua Tree for its spectacular natural beauty, outdoor recreational opportunities, and vibrant arts community. The stark desert landscapes, dotted with the park's namesake Joshua Trees, provide a serene backdrop for a range of activities, from hiking and rock climbing to photography and stargazing. The town itself is known for its eclectic art galleries, music festivals, and a growing wellness community offering yoga and meditation retreats.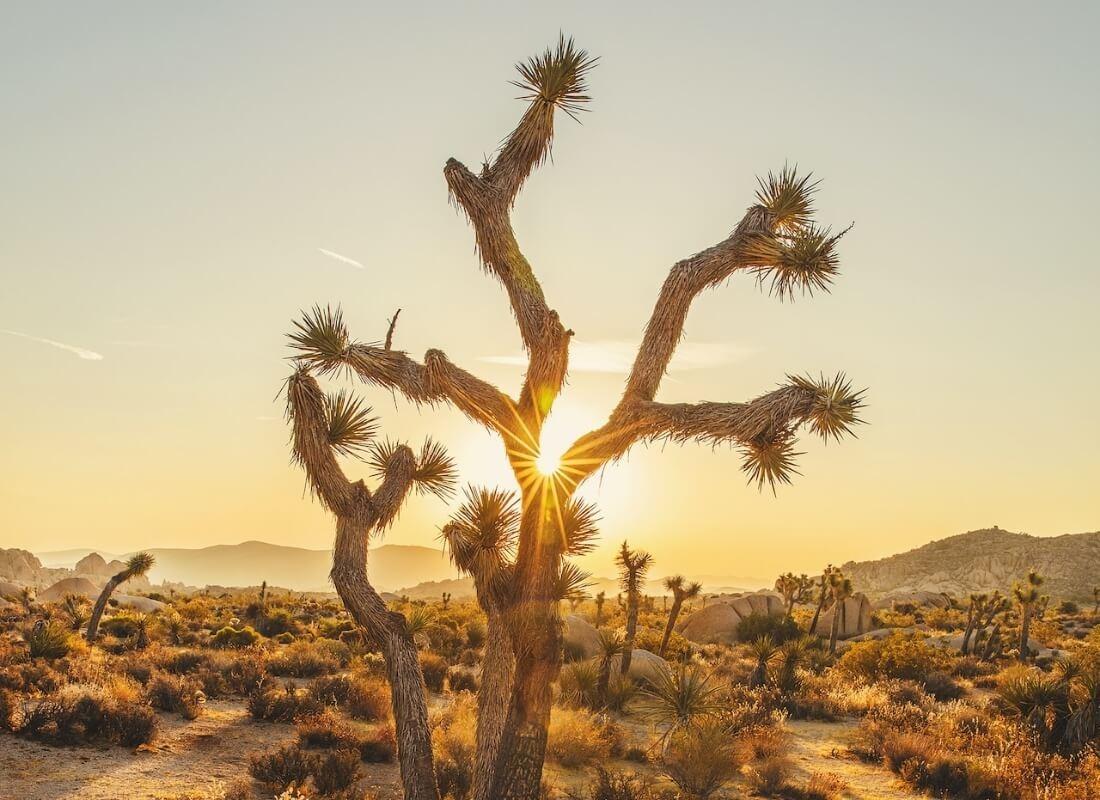 Things to Do in Joshua Tree, CA
Discover the park's unique geology, flora, and fauna through numerous hiking trails, rock climbing routes, and picnic areas.

A beautiful place to visit at sunrise or sunset, the garden highlights one of the desert's most unique plants.

This unique, acoustically perfect wooden dome offers "sound baths" that promote relaxation and rejuvenation.

Visit the retreat center and participate in a yoga class or workshop.

Take a scenic drive along the Pipes Canyon Road and stop at the Pioneertown Old West movie set.

Browse local artwork and meet the artists in the town's eclectic galleries and studios.

Dining in Joshua Tree
Palm Springs is not just a sun-soaked desert oasis, it's also a culinary hotspot where food lovers can embark on a tantalizing journey through an array of cuisines. This city boasts a vibrant dining scene, from chic eateries serving Californian cuisine made from locally sourced ingredients, to internationally-inspired establishments that add a global flavor. Whether you're looking for elegant dining with mountain views, retro diners with mid-century charm, or food trucks offering quick bites, Palm Springs has a variety of dining options that are as diverse and delightful as the city itself.

A local favorite serving up hearty American fare in a cozy atmosphere.

A pizzeria offering a variety of wood-fired pies and salads.

A vegan cafe with a focus on healthy, organic ingredients.

A rustic bar and grill with live music and a laid-back atmosphere.

A charming cafe with great coffee and bites. Right in the heart of downtown Yucca.

A legendary roadhouse bar and grill featuring live music and a laid-back atmosphere. Incredible BBQ and walking distance to Pioneertown.

Weather in Joshua Tree, CA and the Best Time to Visit
Joshua Tree experiences a desert climate with hot summers and mild winters. Daytime summer temperatures can soar above 100°F, while winters can be chilly with night temperatures occasionally dipping below freezing.
The best times to visit Joshua Tree are during the spring (March to May) and fall (September to November) when daytime temperatures are pleasant, and the cooler nights make camping under the stars an unforgettable experience.
Getting to Joshua Tree is quite straightforward:
By Air: The closest airport is Palm Springs International Airport (PSP), about a 45-minute drive from Joshua Tree. Other nearby airports include Ontario International Airport (ONT) and Los Angeles International Airport (LAX).
By Car: Joshua Tree is easily accessible via Highway 62. It's roughly a 2.5-hour drive from Los Angeles and a 3.5-hour drive from Phoenix.
By Bus: Morongo Basin Transit Authority provides bus services connecting Joshua Tree with nearby towns and attractions.
Once in Joshua Tree, the best way to get around is by car or by using local taxi services. However, many areas of the national park are best explored on foot.
Immerse yourself in the natural beauty and artistic spirit of Joshua Tree, where the expansive desert landscape offers endless opportunities for exploration, adventure, and serenity. Plan your visit and book your Joshua Tree Vacation Rental today to experience this unique California gem.